Creating a quiz with Dokeos is very simple. What's more, it's easy to customise according to your business needs. 
The quiz is an essential tool for any designer of elearning courses. Dokeos quiz stand out for the simplicity of their creation, along with the highly advanced options for personalisation.
How do I create a quiz?
From the home page of your course, click Quiz, then New Quiz.
First you need to name your quiz. This information will be invaluable if you need to write a large number of quizzes for your elearning scenario, allowing you to easily recognise, differentiate, manage, move, edit, and delete if necessary.
Once you've chosen a name, you come to the Quiz Maker. This is where you choose which questions to include in your quiz. You can put different types of questions in the same quiz. But before you start, we suggest you visit the Scenario page to customise the quiz.
How do I customise my quiz?
The Scenario page is accessible from the Quiz Maker menu bar. It allows you to finely tailor your quiz and adapt it to your business with several helpful setting options: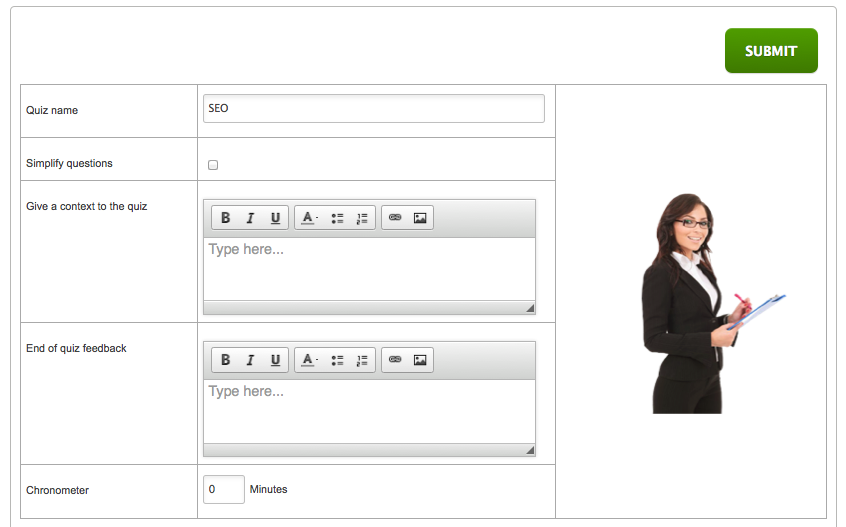 1. Appearance: The quiz header and footer are fully customisable. You can insert the graphic elements of your choice: logos, illustrations, texts, etc.
2. Stopwatch: You can select the time period given to answer questions.
3. Order of questions: Do you want questions to always appear in the same order for all users and all tests, or would you prefer they change? This option is very useful for self-learning or to prevent students copying each other.
4. The number of questions asked: Useful if you do not want to ask all questions during the quiz but rather just a selection.
5. Feedback: You can finely adapt your feedback to user answers: No feedback at all, feedback at the end of the test, or after each question. Anything is possible.


6. The score: Choose whether or not to show participants their scores.