There are 29 types of possible questions available with Dokeos. This is an important choice when adapting to the needs of the elearning course designer.
Dokeos offers a wide range of questions to ensure your elearning course is supported with the right questions.
What types of questions can be created in the quiz?
The Dokeos Quiz tool allows for 29 different types of questions, and 7 types of logical reasoning.
There are 29 types of questions available on our Models page, accessible from the Quiz Maker:
True or false?
Select the right answer
Sequence of operations
Choose and justify
Are you sure about your answer?
Choose an image
Listen then answer a multiple choice question
Follow the steps described in a screencast
Watch a flash animation
Capture information from a video
Include in a list
Eliminate the odd one out in a list
Include/exclude images
Identify a set of responses
Calculate the answer
Complete a table
Listen and fill in the blanks
Complete the crossword
Reply by text
Justify your choice
Explain a mind map
Match words with each other
Order a process
Construct an argument
Align images with each other
Identify the elements in the composition of an image
Navigate a diagram
Reproduce a manipulation on a screenshot
Find errors in a form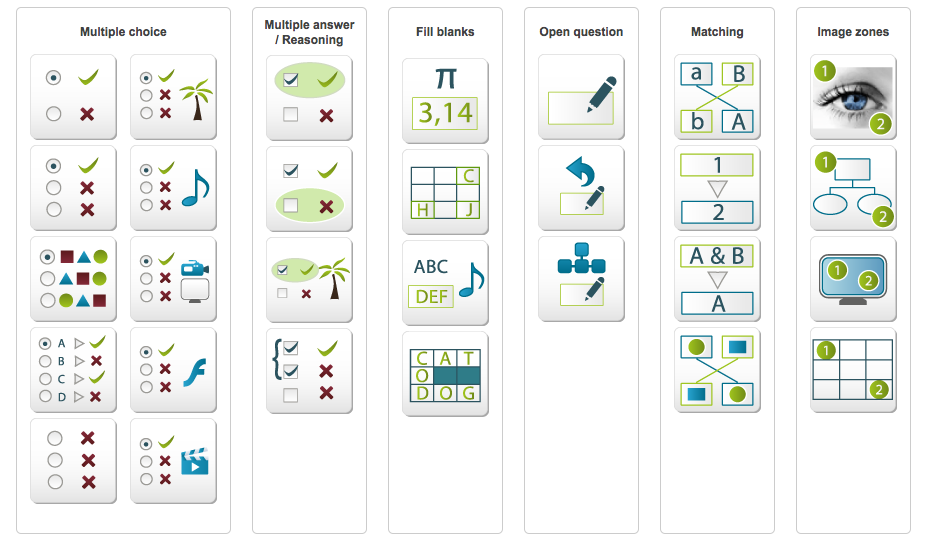 All questions are based on 7 main types of logical reasoning:
Multiple choice questions (MCQ): You ask a question, an answer can be selected.
Questionnaire with multiple answers: Same as the MCQ but allows multiple answers. The question can be based on an image, video, audio, or Flash.
Blanks: Leave blanks in a document for your participants to fill in. Documents can include Word or Excel files. All that's required for example is to upload an Excel spreadsheet. White out the areas that require answers to be given, and then indicate the right answers using your creation tool.
The open question: You ask a question, if necessary with an image support, and your participants respond how they like.
Pairing: link images or phrases with each other.
Detection of zones: Participants must identify which area is shown on a graphic. For example, indicate which organ is which on an image of the human body.
Delineation: Based on an image, participants locate areas of an image. For example, you can ask them the locations of a specific organ in a human body. With the mouse, they draw lines to define the zone then click on the right mouse button to save the selection. It will be compared with what you said in response, and validated if correct.
I don't have many quiz ideas. Do you offer template questions?
Dokeos offers 29 question models or templates. These can show you the capacities of a Dokeos quiz. Use the models for inspiration, or modify and reuse them immediately. The models are accessible from the Quiz Maker menu bar. Each offers a different type of logical reasoning. On the Models page, hover your mouse over each to discover its name.
Does the Dokeos Quiz tool allow me to create a series of complex questions?
Yes. The possibilities with Dokeos quizzes are almost limitless, allowing you for example to create a series of sophisticated questions using a software application:
1. Watch a screencast and answer questions
2. Click a screenshot
3. Drag and drop buttons next to functions, etc.
Have you tested the wide range of possibilities for our quizzes yet? Try free now for 60 days.